The TIK-C585 Pipe Caliper is a unique measuring device which allows quick and precise measurement of pipes for insulation purposes. The TIK-C585 measures both copper and black piping (PVC, CPVC, Schedule 40, 80 Iron, etc). The pipe caliper is calibrated to accurately measure piping as small as 1/4 all the way up to 12" IPS.
How It Works:
Simply place the TIK-C585 Pipe Caliper over the pipe and close both wings making sure the pipe touches both wings and the head of the caliper. For copper piping use the CWT (Copper Water Tube) size listing and for all other piping use the IPS (Iron Pipe Size) listing. That's it!
How We Make It:
The TIK-C585 is punched from US Steel and die embossed to ensure the numbers do not wear over time. Once punched and embossed, the steel is zinc plated which gives a brushed metal appearance and helps prevent corrosion.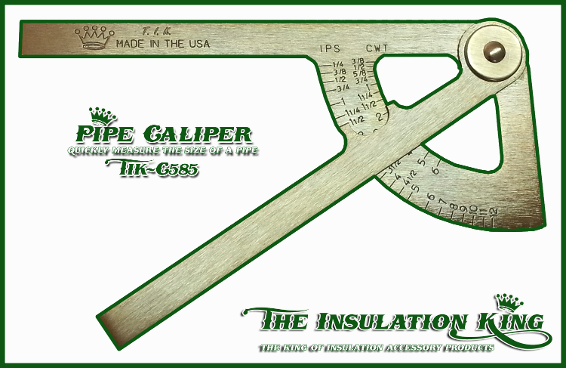 OUR PIPE CALIPER IS PROUDLY MADE IN THE UNITED STATES!
Our Pipe Caliper was designed and engineered in the United States.

Each Pipe Caliper is punched from US Steel.

Each Pipe Caliper is machined, assembled, calibrated, and packaged in the United States.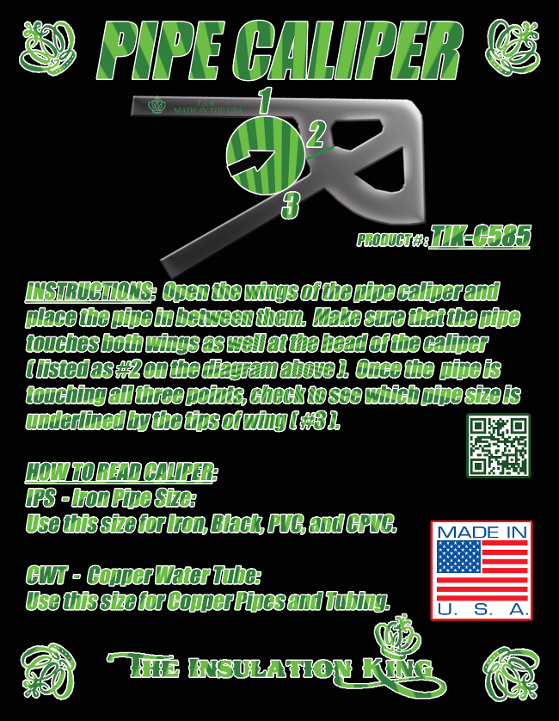 Our Product #: TIK-C585


The TIK-C585 is die embossed which prevents wearing and legible measurements.